Morgan Spurlock to Speak at a One-of-a-Kind Event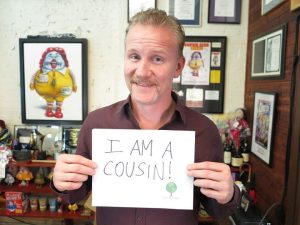 On June 6 in New York City, Morgan Spurlock will  speak at a one-of-a-kind event, along with other entertainers including Michael Ian Black, Ophira Eisenberg and Andy Borowitz.
It's called The Global Family Reunion. And you can be there, since you're probably his cousin.
Let us explain: We are a team of researchers who are building the biggest Family Tree in history.
And it is BIG.
Our current family tree has an astounding 240 MILLION people on it, all related by blood or marriage. Morgan is on it. George Clooney is on it. Hillary Clinton is on it.
The event and Big Tree have been covered in the New York Times, Good Morning America and People.
To celebrate the idea that we are one big family, we are holding the Biggest Family Reunion in history.
Morgan Spurlock will be one of several great speakers. There will be comedy about family from Andy Borowitz of The New Yorker and Nick Kroll of Comedy Central. Henry Louis Gates will give a keynote address. There will be games, food and music (Sister Sledge is singing "We Are Family").
Every member of the Human Family is invited (Whether or not you've been connected to the tree yet).
---
Get your discount tickets here – and get 20 percent off for fans of Morgan Spurlock. (use the code: SPURLOCKGFR)
Buy Tickets
---
And here's the cool part: If you want, we can figure out how you're related Morgan himself. After you buy the ticket, our researchers will start working on how you are part of the Global Family Tree. Now, we can't guarantee that we'll connect you. But we will work our tails off trying. And we've had tremendous success so far.
We want as many of the people in the audience as possible to be cousins. We want to break the world record for Biggest Family Reunion.
Oh, and it's for a good cause. All proceeds go to battling Alzheimer's – specifically the Cure Alzheimer's Fund and the Alzheimer's Association NYC.
What: A festival like no other
When: June 6, 2015
Where: New York Hall of Science.
Price: $24 with discount