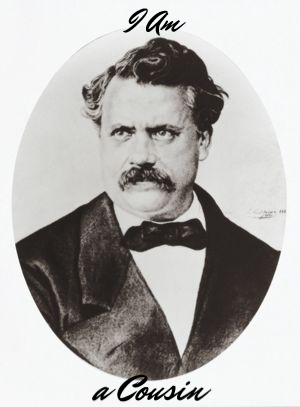 Today's AJ Cousin Connection is French fashion designer Louis Vuitton, who was born on this day, 4 August, in 1821.
In 1835 at the age of 14, Louis ran away from home to walk the 292 miles to Paris. He supported himself with odd jobs along the way, sleeping wherever he found shelter. I'm 1837 at the age of 16 he arrived in Paris. He apprenticed in the workshop of a successful box-maker and packer named Monsieur Marecha. There Louis learned the 19th century craft of custom box making. This involved not only making the fitted boxes, but packing and unpacking them also. Louis established a good reputation for his craft and service.
When Eugenie de Montijo, married Napoleon IIII, she hired Louis as her personal box-maker and packer. Vuitton now had access to a class of elite and royal clientele who would seek his services for the duration of his life. [1]
Louis Vuitton is AJ's wife's second cousin's husband's first cousin's wife's fourth cousin once removed's wife's second cousin twice removed's husband's brother's wife's second great grandfather!
Here's what that looks like (You = AJ):

1. https://www.wikitree.com/wiki/Vuitton-1
---