Editor's Note: Sasha is not only an awesome cousin on her own grand adventure, she has also been instrumental in helping us compile The Ultimate Cousin Cookbook which will be for sale at the Reunion and online.  All proceeds will go to our Alzheimer's partners.  Sasha will be at the Global Family Reunion to talk about her global adventures. You can purchase her book there as well!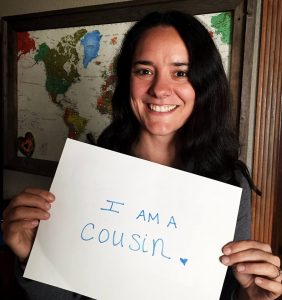 1.    Tell us a little about yourself.  Where are you from? What do you do for work? Fun? Married? Kids? You get that idea.
I'm a wife, mother, and lover of peace. My family and I spent nearly four years eating a meal from every country in the world (A-Z, one country per week), all from our tiny kitchen in Tulsa, Oklahoma. As a food blogger (Global Table Adventure) and National Geographic author, I enjoy helping other people bring the world into their kitchens. I think rolling homemade sushi with friends is more fun than a night out at the bar.
2.      Do you have a favorite ancestor? Who? Why?
I am fascinated by my Italian and my Hungarian relatives who immigrated to the United States in search of new opportunity. There's something mythical about the food the created – torta de riso, stuffed artichokes, homemade pasta, chicken paprika – and how these foods kept a bit of their past alive in their new home.
3.      If you could be related to anyone in history, who would you want it to be and why?
I'm a big geek when it comes to Arthurian legend – I spent most of college studying the world of Chretiens de Troyes, the medieval French author who helped solidify Arthurian legend for generations to come. I would love to sit with him, talk books, and eat a traditional medieval French feast. Being related wouldn't be so bad, either.
4.      What are your thoughts on the Global Family Reunion? Will you be attending?
I'm SO excited about the reunion. I plan to speak in the storytelling tent on Saturday evening and am looking forward to sharing my story and hearing others.
5.      Do you come from a big family? Small family? Do you guys have family reunions and do you have any good family reunion stories?
I don't have a traditional family history. Though my mother was a creative and eccentric woman, there were numerous challenges in my childhood. I was in and out of foster homes and ultimately raised by family friends a continent away from my mother. Though many people raised me, at times my family felt very small because I never knew if a home or family would be unconditional. In my memoir, Life from Scratch: A Memoir of Food, Family, and Forgiveness, I recount the awkward reunion with my mother. I was 19 years old. We went to a Chinese restaurant and while the food was forgettable, the experience was far from it. Reunions aren't always what we expect, but showing up is the most important thing.
6.      Favorite color? Favorite food? Left-handed or right-handed? Do you like to have breakfast for dinner? Favorite book? Movie? TV show? Song/band? Quote?
Ice blue. Tabbouleh. Right handed. Yes – especially a good frittata. The Glass Castle by Jeanette Walls. Moulin Rouge. Parenthood or Doctor Who. Tom Petty and Sarah McLaughlin.
"All of us, all over the world, are bodies in the cells of humanity. You are not separate from your fellow humans, and you cannot find harmony for yourself alone. You can only find harmony when you realize the oneness of all and work for the good of all." Peace Pilgrim (1908-1981)
7.      Do you have any funny quirks that you've inherited from your family?
I dab my wrists and behind my earlobes with vanilla extract when baking.
8.      Do you know much about your family history? Where do your ancestors come from? Would you want to visit the lands they hail from?
I know more about my Italian relatives – I would love to visit the small village in Italy where they're from and chow down at a local restaurant.
9.      If you could get A.J. to invite one person to the Global Family Reunion, who would it be and why?
I would love to meet Jeanette Walls, author of The Glass Castle. She has such an amazing family story and such a brilliant heart.
10.  A.J.'s idea is that if the people of the world could see how interconnected we all are maybe we would be a little nicer to one another.  What do you think about that?
I think he's right! I think of everyone in the world as my family and global neighbors. In fact, I dream inviting the entire world to an enormous global table where we could all eat together in peace – no food fights, no arguing. It might be idealistic, but eating together in this way is the foundation of a strong family. It builds understanding and compassion, as well as a common bond.
11.  If you could share one message with your 7 billion cousins what would it be?
Love is always the answer. Always.
12. You've just had a book come out.  Tell us a little about it and where we can find it.
I had one simple task when I started writing my memoir  – chronicle my adventure to eat a meal from every country in the world with my picky husband and baby girl, all from our small kitchen in Tulsa, Oklahoma. But looming over the simple narrative of how I set out to cook the world, one burning question remained… why.
The more I dug into this question, the more I realized that my four-year, 195-country culinary obsession was rooted in something much deeper. It was about finding a sense of belonging… and I knew I would never find my place in this world if I didn't make peace with my past. As I wrote, the story quickly took on a life of its own. Life from Scratch: A Memoir of Food, Family, and Forgiveness shares this journey towards belonging, motherhood, and inner peace… with the added indulgence of 29 of my favorite recipes from my family and Global Table Adventure.
13. Do you have a favorite recipe from your book? If so, what is it?
They all have a special place in my heart… especially my mother's recipes. The German Tree Cake is especially good – all 21 layers of it! No one needs to make a cake this elaborate, but it's symbolic of my mother's perseverance as a single mother on a food stamp budget. She used cooking to help us see beyond our circumstances and realize that the world was a magical place full of possibility.  Plus, the cake is delicious!
14.  What's next for you? Any new projects on the horizon? 
I'm currently searching the globe for delicious ways to enjoy old favorites like carrots and potatoes – I love how a few ingredient tweaks can transport you to another part of the world and spice up dinnertime. But it's not just about me and my family – I use my blog, Global Table Adventure, to help people bring the world into their kitchens with fun, delicious recipes that are easy enough for a weeknight and elegant enough for the weekend. To date I've adapted more than 650 recipes from 195 countries for families, educators, and students. If you're looking for recipes from your family heritage, this might be a great place to start!
---