Hello Cousin,
Hope all is well with your branch of the family.
Thought you might want to know the latest with the Global Family Reunion, the biggest, most inclusive, most entertaining family reunion in history (all to benefit the battle against Alzheimer's.)
The global family tree continues to grow with Jesse Owens-like speed. (And yes, Cousin Jesse is on the tree). It has millions of cousins and is expanding all the time. You probably got five new cousins while reading this sentence. And a couple more just now. And now.
If you haven't yet been connected to the mega-tree, don't worry: our awesome research team is working to connect cousins as quickly as possible. We've been delightfully overwhelmed with requests and we're plowing through them.
PRESS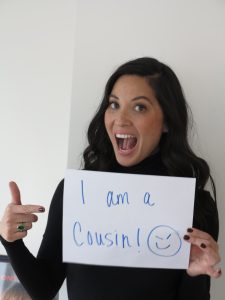 We've been spreading the One-Family gospel to cousins far and wide. Global Family Reunion founder A.J. Jacobs continues his column in People magazine in which he interviews a famous relative. This week? Actress Olivia Munn (Newsroom), who was delighted to hear that her sixth great grandfather was a horse thief. "Sounds like we've got a badass family," she said. Also of interest: her boyfriend, Green Bay Packers QB Aaron Rodgers is her cousin. But it's distant and through marriage, so we're pretty sure the relationship is legal in all 50 states.
Other press this month includes The Forward and German magazine Die Welt, which was very complimentary, or at least it seemed that way in the Google translation.
PROJECTS
One of our cousins – Niels Hansen, a Norwegian genealogy enthusiast – is making a supremely cool chart connecting 100 famous and historical figures. We'll unveil it at the reunion, but here's a start.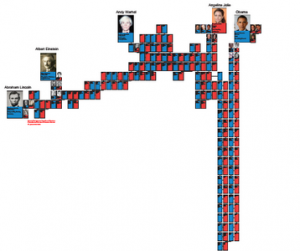 ACTIVITIES
The reunion will be like a World's Fair, with presentations, games, exhibits, music and a scavenger hunt. We're thrilled by our ever-expanding list of presenters. In addition to Henry Louis Gates, comedian Nick Kroll and others, we've recently added New Yorker humorist Andy Borowitz and comedian Michael Showalter.
We'll also be unveiling the "Global Family Cookbook," which we are creating with the website Food52 and editors Sasha Martin, Tami Osmer and Eowyn Langholf. Spoiler alert: There will be prominent placement of Swedish meatballs.
RANDOM NEW MEMBER OF THE FAMILY TREE THAT WE ARE OBSESSED WITH
British soldier "Fighting Jack Churchill." This guy went into battle armed with a longbow, a broadsword….and bagpipes. In World War II.
UPCOMING
We're excited to tell you that tickets for the Global Family Reunion will be going on sale very soon in conjunction with the launch of our IndieGogo campaign. All proceeds from the campaign after the cost of the event will go toward battling Alzheimer's. Stay tuned.
In just a couple weeks, A.J. and the Global Family Reunion team are heading to Salt Lake City for RootsTech and the FGS Conference. A.J. will be a keynote speaker, along with Donny Osmond and Jenna and Barbara Bush. We will also have a booth in the Expo Hall so if you are attending either conference please be sure to stop by and say hello.
EXHIBITORS
We've got some great exhibitors, including FamilySearch, MyHeritage and WikiTree. If you're interested being an exhibitor (and reaching thousands of your closest family members) please get in touch. Details on exhibitor booths will be up on our site soon but if you are interested in learning more now, contact our Exhibit Booth Coordinator, Nina Hoffer, at gfrexhibitors@gmail.com.
HOLIDAY PHOTO THROWDOWN WINNERS
Thanks to all of our cousins who sent us their holiday photos. We had some great entries to choose from and now we're delighted to announce the winners you voted for here.
As a sample, please enjoy the winner of the Cousin Who was Farthest Away Category: Līga and family of Latvia!
BRANCH PARTIES
We're continuing to add to our growing list of official Branch Parties including ones in California, Georgia, Canada and Germany. In Buffalo, the Forest Lawn cemetery will be holding a branch party. Forest Lawn writes that it has "160,000 souls under our perpetual care, including President Millard Fillmore." Sadly, we can't count those 160,000 in our total. Still, we're thrilled.
Some of these parties are on the bigger side. But are you looking for something small and informal? We'd love you to host an gathering of family and friends at your house or apartment. It could be as small as four cousins and a bowl of Cheetos. We call them House Branch Parties.You can stream our great programming and do whatever activities you like, including trivia games and Cheeto-eating contests. (Note: We are not sponsored by Cheetos).
Email Angel Hundley at gfrbranchparties@gmail.com for more info. We'd like to cover a global map with virtual pins of all the House Party sites.
TO DO:
–If you haven't sent in the names of your grandparents and great grandparents (along with birth dates please!) then shoot an email to us at info@worldfamily.us. (If you have sent this info in previously, we've got it! There's no need to re-send.)
— Follow us on Facebook: https://www.facebook.com/pages/Global-Family-Reunion/223798427785665
— Follow us on Twitter: https://twitter.com/GlobalReunion15
— Check out all the different ways you can be involved in this epic event!
— Save an official invitation and share it with 10 of your family members and friends
— Book your hotel! (Big thanks to NYC & Company for helping secure these great hotel deals for our traveling cousins!)
Stay tuned for more updates coming soon!
Your Cousins,
A.J. Jacobs and the Global Family Team