Hello Cousins,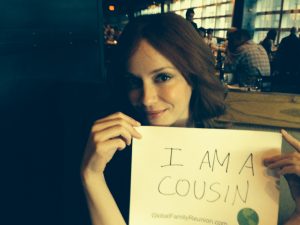 Hope your branch of the family is doing well.
We wanted to give you a quick update on the Global Family Reunion, the biggest, most inclusive, most entertaining family reunion in history (all to benefit the battle against Alzheimer's).
We've added tens of thousands of relatives to the Big Family in the last month, including Napoleon, Annie Oakley and J.R.R. Tolkien. So please say hi (bonjour/howdy/suilad) to your new cousins.
And if you haven't yet been connected to the mega-tree, don't worry: our team is working on it. (We've been delightfully overwhelmed with requests, but we're plowing through them).
PRESS:
The Global Family Reunion has gotten some amazing coverage in the last month, including NPR, BuzzFeed and The Guardian (where we figure out how Obama is related to dozens of senators on both sides of the aisle).
GFR host, author A.J. Jacobs, also has a column in People magazine where he interviews a notable cousin every month. (This installment: Valerie Bertinelli, where she talked about her Quaker roots, Jeffrey Dahmer and her bad British accent).
NEW SPEAKERS AND ENTERTAINERS: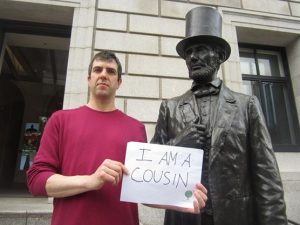 We continue to book interesting speakers and performers to make sure all our cousins are thoroughly entertained and thought-provoked on June 6.
NPR Weekend Edition host Scott Simon will be giving a talk in praise of adoption. Spencer Wells of the National Genographic project will speak about DNA. Singers Lisa Loeb and Paul Williams – among more to be announced soon — will rock out.
Oh, and we've also booked George Washington, who is A.J.'s aunt's fifth great aunt's husband's great uncle's wife's great nephew. Maybe not the actual George Washington. But the best GW re-enactor in America. We want some historical figures at the reunion too.
SATELLITE EVENTS:
The Global Family Reunion will, in fact, be Global. We're helping to organize branch parties all over the world. (Get it? Branches, as in Family tree?) So far, among others, we have the Family History Library in Salt Lake City, Utah, the Clayton Library Center in Houston, Texas, Allen County Public Library in Wayne, Indiana and the Midwest Genealogy Center in Independence, Missouri. If you want to get involved in a branch party, please contact info@worldfamily.us.
NEW ALZHEIMER'S INITIATIVE:
We want to get more people on the tree – and help battle Alzheimer's at the same time. Note to genealogists: We are donating $1 to battling Alzheimer's for every connection made. See here for details.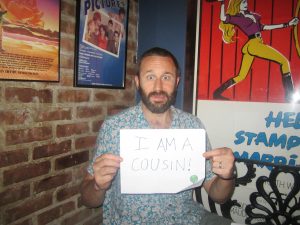 PARTNERS:
A growing number of great organizations have joined us as partners. Most recently, we want to welcome FamilySearch to the, uh, family. FamilySearch is huge and helpful, with more than a billion records.
TO DO:
–If you haven't submitted the names of your grandparents and great grandparents (along with birth dates please!) then shoot an email to us at info@worldfamily.us
–Send us stuff! Okay, not just any stuff, but we are collecting stories, photos, videos and recipes. For more details see here.
—Become a GFR Ambassador and help spread the word via social media and blogging!
–Check out all the different opportunities to volunteer!
Thank you, my cousins. Looking forward to meeting you all soon!
A.J. Jacobs and the Global Family Reunion team.
Note: The photos are of cousins Christina Hendricks (actor), Chris O'Dowd (actor) and Abraham Lincoln (president).
---