Today's AJ Cousin Connection is Anne Hathaway, the wife of playwright William Shakespeare.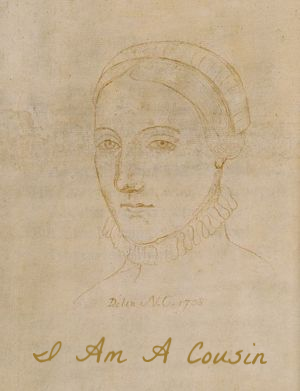 Anne Hathaway was born in 1555/6 and died on this day, August 6, in 1623. Not much is known about Anne beyond references in legal documents and many historians and creative writers have speculated about her personality and her relationship with William Shakespeare.
Anne was 26 when she married the then 18 year old William in November of 1582. She was pregnant with the child she would give birth to six months later. Because of the age difference, there are some historians who postulate that this was a "shotgun" wedding forced onto the young Shakespeare by the Hathaway family.
Anne and William would have three children – Susanna, born in 1583 and twins, Judith and Hamnet, born in 1585. Hamnet died at the age of 11.
Anne died August 6, 1623. On her tombstone is an inscription in Latin which reads as "Breasts, O mother, milk and life thou didst give. Woe is me – for how great a boon shall I give stones? How much rather would I pray that the good angel should move the stone so that, like Christ's body, thine image might come forth! But my prayers are unavailing. Come quickly, Christ, that my mother, though shut within this tomb may rise again and reach the stars."
This may have been written by John Hall, on behalf of his wife Susanna, for her mother.[1]
A.J. Jacobs is Anne Hathaway's husband's first cousin 13 times removed's husband's nephew.
Here's what that looks like: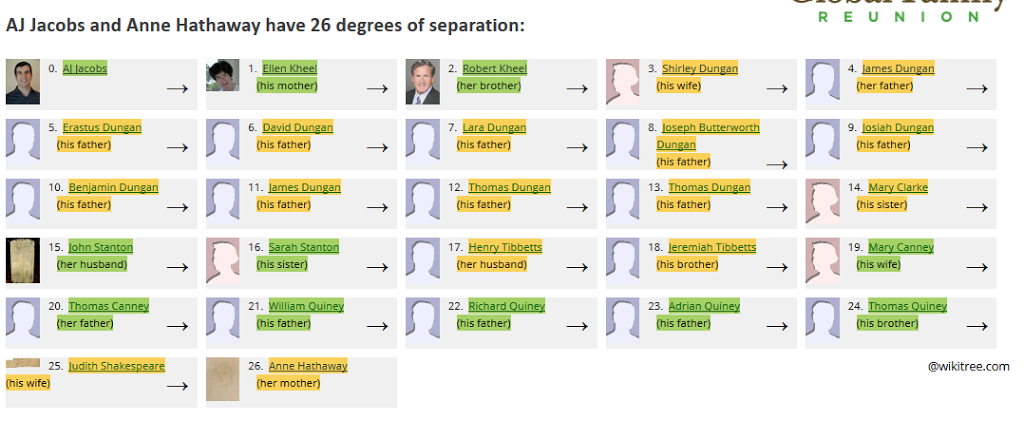 1. https://en.wikipedia.org/wiki/Anne_Hathaway_%28Shakespeare%27s_wife%29
---