Today's AJ Cousin Connection is American actress, singer and model Marilyn Monroe, who, sadly, died on this day 5 August in 1962. Can you believe she'd be 88 if she had lived?!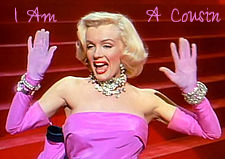 Marilyn spent most of her childhood in foster homes then went on to start a career in modeling. By 1946 she landed a contract with Twentieth Century-Fox. She starred in numerous commercially successful films in the 50s and 60s. Marilyn won a Golden Globe award for her performance in Some Like It Hot. Regrettably, her later years were plagued with illness and personal problems. It is debated whether her death was a probably suicide or accidental overdoes but either way the world lost a brilliant diamond on this day 52 years ago.
"I am good, but not an angel. I do sin, but I am not the devil. I am just a small girl in a big world trying to find someone to love." – Marilyn Monroe
Marilyn Monroe is AJ's second great aunt's aunt's husband's first cousin twice removed's wife's great niece's husband's great nephew's wife's father's ex-wife.
Here's what that looks like:

---