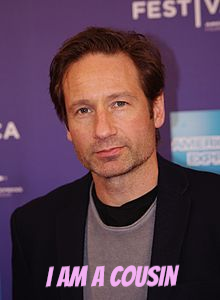 Today's AJ Cousin Connection is actor, writer and director David Duchovny, best known for his roles as Fox Mulder on The X-Files and as Hank Moody on Californication, both roles that won him Golden Globe Awards.
Coincidentally, today also happens to be David's birthday! He was born August 7, 1960 in New York City. David's father was Jewish, his parents having come from what's now part of the Ukraine and from Poland. His mother is a Lutheran emigrant from Scotland.
Fun fact: David received a Master of Arts in English Literature from Yale University.
Fun fact #2: David is a former vegetarian and current pescetarian.
In March of this year, NBC announced that a new series starring David called Aquarius has been ordered! He will play a 1960s police sergeant investigating budding cult leader Charles Manson.
A.J. Jacobs is David William Duchovny's first cousin once removed's wife's sister's husband's nephew's wife's uncle's wife's great nephew's ex-wife's second cousin.
Here's what that looks like:
---