by Eowyn Langholf

Today's AJ Cousin Connection is Scottish American industrialist Andrew Carnegie.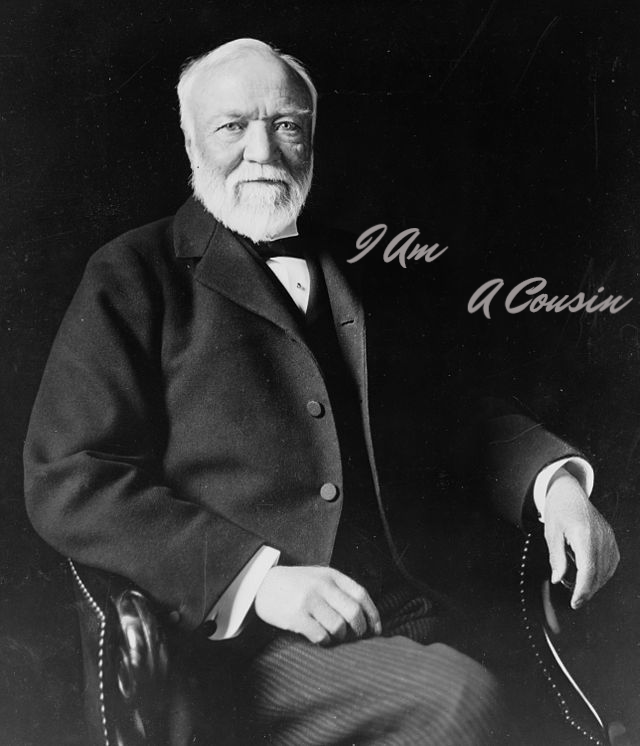 The life of Andrew Carnegie has been called a true "rags to riches" story. Born in Dunfermline, Ireland, in 1835, Andrew emigrated to America with his very poor parents in 1848. He started off as a telegrapher and by 1860 had investments in railroads, bridges, oil derricks and railroad sleeping cars. He went on to also accumulate wealth as a bond salesman. He built the Carnegie Steel Company which he then sold to J.P. Morgan in 1901 for 480 million dollars.
The remainder of his life, Andrew dedicated to philanthropic endeavors on a large scale especially towards local libraries, scientific research, education and world peace. With his vast fortune he built Carnegie Hall, and founded, among other things, the Carnegie Corporation of New York, Carnegie Endowment for International Peace, Carnegie Institution for Science, Carnegie Trust for the Universities of Scotland, Carnegie Hero Fund, Carnegie Mellon University and the Carnegie Museums of Pittsburgh.
Based on the dollar in 2007, Andrew Carnegie's net worth was 298.3 billion dollars!
Mr. Carnegie died on this day, August 11, in 1919, from bronchial pneumonia.
Andrew Carnegie is A.J. Jacobs' first cousin once removed's ex-husband's second cousin twice removed's husband's first cousin once removed's wife's second great uncle.
Here's what that looks like:

---