by Eowyn Langholf
Today's post is to remember and honor actor and comedian
Robin Williams
, who, tragically, died yesterday 11 August 2014. Our hearts go out to his family and friends during this difficult time.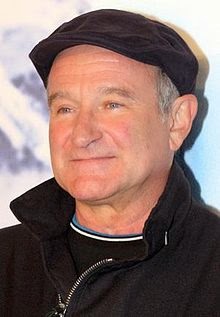 Robin Williams, born 21 June 1951, was one of the best, making us laugh and touching our hearts as he entered our lives through the big screen and his stand-up routines. He brought smiles to our faces and tears to our eyes with movies like The World According to Garp, Dead Poets Society, Mrs. Doubtfire, Hook, Aladdin, The Birdcage, Good Will Hunting….the list goes on and on.
Throughout his career, Robin was the recipient of an Academy Award for Best Supporting Actor as well as two Emmys, four Golden Globe Awards, two Screen Actors Guild Awards and five Grammy awards.
During his life, Robin and former wife Marsha, founded the Windfall Organization, a philanthropic organization that raised money for a variety of charities. The actor devoted a lot of his energies to charity work including performing with the USO for troops and supporting St Jude Children's Research Hospital.
There don't really seem to be the right words to honor his life, the laughter his brought us and the kindness he exhibited to those who crossed his path. The words from the poem prevalent to his film Dead Poets Society, "O Captain, My Captain", by Walt Whitman, seem to perhaps be the most fitting:
O Captain! my Captain! our fearful trip is done,
The ship has weather'd every rack, the prize we sought is won,
The port is near, the bells I hear, the people all exulting,
While follow eyes the steady keel, the vessel grim and daring;
But O heart! heart! heart!
O the bleeding drops of red,
Where on the deck my Captain lies,
Fallen cold and dead.
O Captain! my Captain! rise up and hear the bells;
Rise up—for you the flag is flung—for you the bugle trills,
For you bouquets and ribbon'd wreaths—for you the shores a-crowding,
For you they call, the swaying mass, their eager faces turning;
Here Captain! dear father!
This arm beneath your head!
It is some dream that on the deck,
You've fallen cold and dead.
My Captain does not answer, his lips are pale and still,
My father does not feel my arm, he has no pulse nor will,
The ship is anchor'd safe and sound, its voyage closed and done,
From fearful trip the victor ship comes in with object won;
Exult O shores, and ring O bells!
But I with mournful tread,
Walk the deck my Captain lies,
Fallen cold and dead.
If you are hurting so much that you feel you have no way out – please call someone. Call anyone.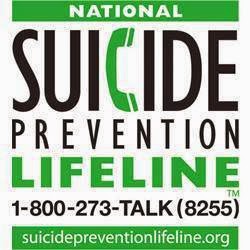 ---