by Eowyn Langholf

Today's AJ Cousin Connection is American sharpshooter Annie Oakley!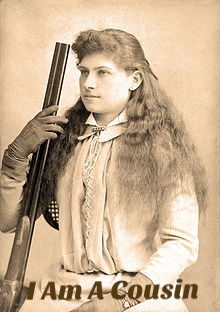 Annie Oakley was born Phoebe Ann Mosey on this day, 13 August, in 1860. Annie's sharpshooting skills led her to a starring role in Buffalo Bill's Wild West show. This timely rise to fame allowed her to become one of the first American women to be a superstar.
Her most famous trick? With a .22 caliber rifle, Annie could repeatedly split a playing card, edge-on, and put several more holes in it before it touched the ground.
Love at first shot: On Thanksgiving Day in 1875, the Baughman and Butler shooting act performed in Cincinnai. Frank Butler, an Irish immigrant, placed a $100 with Jack Frost, the hotel owner, that he, Frank, could beat any fancy local shooter. Jack arranged the shooting match between 15 year old 5 feet tall Annie Oakley and Butler saying "The last opponent Butler expected was a five-foot-tall 15-year old girl named Annie." After missing his 25th shot, Frank lost the match and the bet but won the heart of Annie as the two soon began courting and were married August 23, 1876.
"I ain't afraid to love a man. I ain't afraid to shoot him either. -" ― Annie Oakley
A.J. and Annie have 32 degrees of separation. Here's what that looks like:
---