by Eowyn Langholf
Today's Cousin Connection is Storm! Okay, not exactly, but it is the lovely Halle Berry.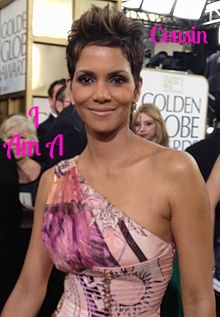 Fun Facts About Halle:
1. She was originally named Maria Halle Berry but her parents changed her name to Halle Maria Berry when she was five years old.
2. Before becoming an actress, Halle participated in numerous beauty pageants and was even 1st runner-up in the Miss USA Pageant in 1986.
3. Her favorite actresses are Dorothy Dandridge, Jodie Foster and Whoopi Goldberg.
4. Halle's dress for the 2002 Oscars ceremony was voted the most popular outfit from the first 75 years.
5. In high school, she was an honor society member, editor of the school paper, and class president. Halle was also crowned prom queen.
6. As of 2014, Halle remains the only African-American actress to have been awarded an Oscar for a leading role, which she won for her role in the 2002 film Monster's Ball.
7. Halle appeared in the 2004 film Catwoman, for which she received a 'worst actress' Razzie award in 2005 for the superhero protagonist. Showing off her sense of humor, Halle became only the second actor to have ever appeared at the Razzie awards ceremony to accept the award in person!
Halle Berry is A.J. Jacobs' aunt's ex-husband's third great uncle's wife's first cousin twice removed's wife's 8th great niece.
Here's what that looks like:

Sources:
1. https://factspage.blogspot.com/2010/01/18-interesting-facts-about-halle-berry.html
2. https://en.wikipedia.org/wiki/Halle_Berry
3. https://pop-culture.net/H/Halle-Berry.html
4. https://www.ndtv.com/photos/lifestyle/10-facts-you-didn-t-know-about-halle-berry-15738/slide/5
5. https://www.boomsbeat.com/articles/664/20140225/50-things-you-probably-didn-t-know-about-halle-berry.htm
---