Today's AJ Cousin Connection is legendary crooner Frank Sinatra!

Born December 12, 1915, Frank Sinatra was a singer, actor, director, film producer and conductor, well known for songs such as "Fly Me to the Moon", "The Lady is a Tramp" and "My Way".
Some fun Frank facts: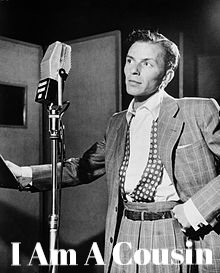 1. His birth was a traumatic one – he was yanked out his mother with forceps and was blue and not breathing! They thought he was dead and laid him on the kitchen counter while tending to his mother. His grandmother picked him up, put him under some cold water and "little Frank wailed out his first song". [1]
2. Frank's cocktail of choice: a mix of four ice cubes, two fingers of Jack Daniel's whiskey, and a splash of water. He once said, "This is a gentlemen's drink."
3. Sinatra was married 4 times – Nancy Barbato, Ava Gardner, Mia Farrow and Barbara Marx.
4. He preferred athletics to academics participated in a variety of sports, including boxing.
5. Not just a great singer, he won an Academy Award for his non-singing performance in From Here to Eternity (1953).
6. In total, he received 9 Grammy Awards, 3 Academy Awards, a Presidential Medal of Freedom, and a Congressional Gold Medal.
7. Frank was a dedicated supporter of Democratic Party until the early 1970s when he switched to become a Republican. He supported Ronald Reagan in the 1980 Presidential Elections and donated $4 million to Reagan's campaign.

8. Elton John stated that Sinatra, "was simply the best – no one else even comes close". [2]

Frank Sinatra is A.J. Jacobs' first cousin thrice removed's wife's second cousin once removed's ex-husband's wife's ex-husband's ex-wife's ex-husband.
Here's what that looks like:

Sources:
1. https://mentalfloss.com/article/29962/11-little-known-facts-about-frank-sinatra
2. https://nobert-bermosa.blogspot.com/2011/09/60-entertaining-and-interesting-facts.html
---