by Eowyn Langholf

Today's AJ Cousin Connection is the horribly fabulous Lon Chaney. He soared to fame during the era of silent films, excelling in the horror genre with movies like Hunchback of Notre Dame and The Phantom of the Opera. He became very well known for his tortured and grotesque portrayals and for his groundbreaking skills with makeup! His ability to transform himself with a variety of makeup techniques earned him the nickname "The Man of a Thousand Faces".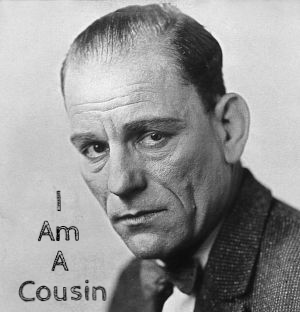 Born Leonidas Chaney, he was the son of Frank Chaney and Alice Kennedy. Interestingly, both Lon's parents were deaf and so, at a young age, he become very skilled in pantomime. His stage career began in 1902 when Lon began traveling with Vaudeville groups and theater acts. He married 16 year old Cleva Creighton in 1905 the next year, they had their only son, named after Lon. Several years later, amidst heavy marital problems, Cleva went to the Majestic Theater in Los Angeles, where Lon was managing a show, and tried to commit suicide by swallowing mercuric chloride. The attempt failed but the scandal that followed drove Lon out of theater and into film.
His breakthrough performance came in 1919 as "The Frog" in George Loane Tucker's The Miracle Man. The film displayed not only Chaney's acting ability, but also that he was a master of makeup and put him on the map as foremost character actor!
The Unholy Three was the only "talkie" film he ever did and it displayed his versatile voice. Five of the key voices in the film were Lon's!
He died of a throat hemorrhage on August 26, 1930.
Lon Chaney is A.J. Jacobs' aunt's ex-husband's third great uncle's wife's uncle's wife's fourth cousin thrice removed.
Here's what that looks like:
Sources:
1. https://en.wikipedia.org/wiki/Lon_Chaney_%28Sr.%29
---