by Eowyn Langholf

Today's AJ Cousin Connection is legendary pop star Michael Jackson!
Michael Jackson was a global figure in pop culture for over four decades and his legacy still carries on through his music and the dedication of his loyal fans. Known as the King of Pop, Michael was a singer, songwriter, dancer and actor, with top hits like "Thriller", "Bad", "Billie Jean" and "Beat It".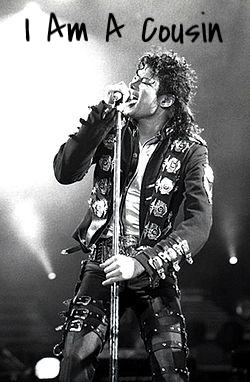 Here's some fun facts about the King of Pop:
1. When he was a child Michael's favorite books included Rip Van Winkle and The Old Man and the Sea.
2. He has two stars on the Hollywood Walk of Fame (one for himself and one as part of the Jackson Five).
3. Michael was a big fan of The Three Stooge.
4. Michael won 13 Grammy Awards, was inducted into the Rock and Roll Hall of Fame twice and two of his albums Bad and Dangerous are among the world's best-selling records.
5. He has waxworks in five Madame Tussauds museums across the world. Only Elvis Presley and Madonna have more.
6. Jackson patented a shoe device that allowed dancers to lean forward at gravity defying angle.
7. Jackson shares a birthday with Sir Richard Attenborough and actress Rebecca DeMornay
AJ Jacobs and Michael Jackson have 33 degrees of separation. Here's what that looks like: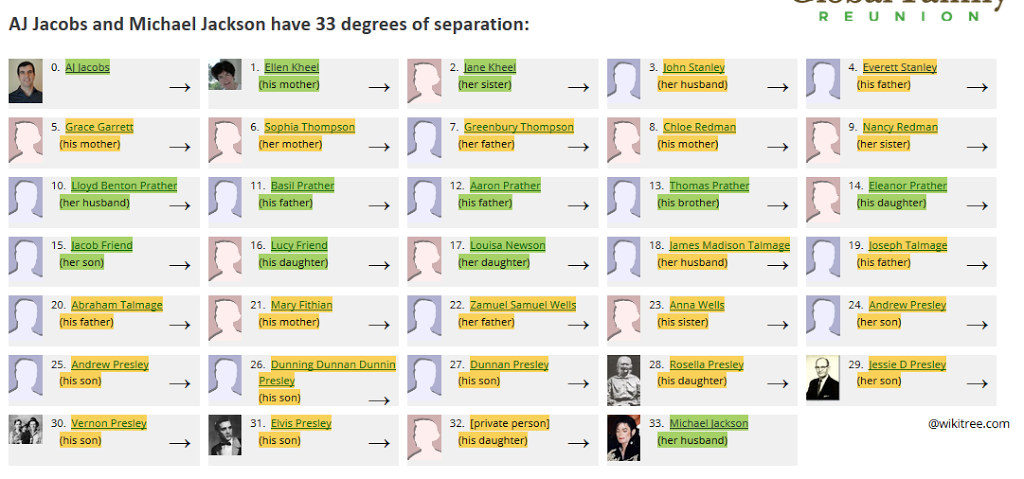 Sources:
1. https://www.telegraph.co.uk/culture/music/michael-jackson/5649814/Michael-Jackson-100-facts-about-the-king-of-pop.html
---