by Abby Glann
Another week, another opportunity to find more cousins! Last week we talked about dates. Those dates are super useful for finding your family, especially if you're using a collaborative genealogy site. Something else that is handy is finding out places. Especially when you are dealing with popular names, places can make all the difference. Ask your family where folks lived, worked, were born, married, or died. These are all helpful clues that can point you to possible sources to back up your family information.
An example of this being important is if you have an ancestor named Michael Armstrong born in 1915 and married to Margaret Perry. Later, when we start looking for sources, say we find two sets of Michael and Margaret Armstrongs, with birth dates around 1915.
How do we know which ones are our ancestors?
We look at the places associated with them. Michael and Margaret number one were living in Baltimore, Maryland when the 1940 US Census rolls around. Michael and Margaret number two were living in San Francisco, California during that census. Say that your grandpa is Joe Armstrong born in 1941 in Baltimore to Michael and Margaret. Chances are, the family you want is the one in Baltimore.
Places help so much in tracking down your family. They can also give you an idea where to look for the family if they tended to move a lot. Dates are a great first step, places are just as important, and not just for births. Find out where people lived!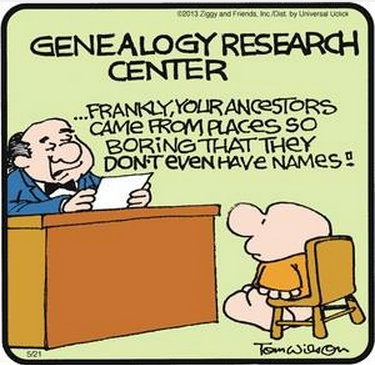 ---