by Eowyn Langholf

Today's AJ Cousin Connection is Richard the Lionheart (Richard I of England). He was born on this day, September 8, 1157 and ruled from 6 July 1189 until his death on 6 April 1199.
Some things about King Richard:
1. He was the third of five sons of King Henry II and Eleanor of Aquitaine.
2. He was called Richard the Lionheart because of his reputation as a great military leader and warrior.
3. Richard also ruled as ruled as Duke of Normany (as Richard IV), Duke of Aquitaine, Duke of Gascony, Lord of Cyprus, Count of Poitiers, Count of Anjou, Count of Maine, Count of Nantes and Overlord of Brittany. Phew!
4. By the age of 16, Richard the Lionheart had taken command of his own army and was putting down rebellions against his father.
5. A Latin prose narrative of the Third Crusade describes him as "… tall, of elegant build; the colour of his hair was between red and gold; his limbs were supple and straight. He had long arms suited to wielding a sword. His long legs matched the rest of his body."
AJ and Richard the Lionheart have 26 degrees of separation. Here's what that looks like: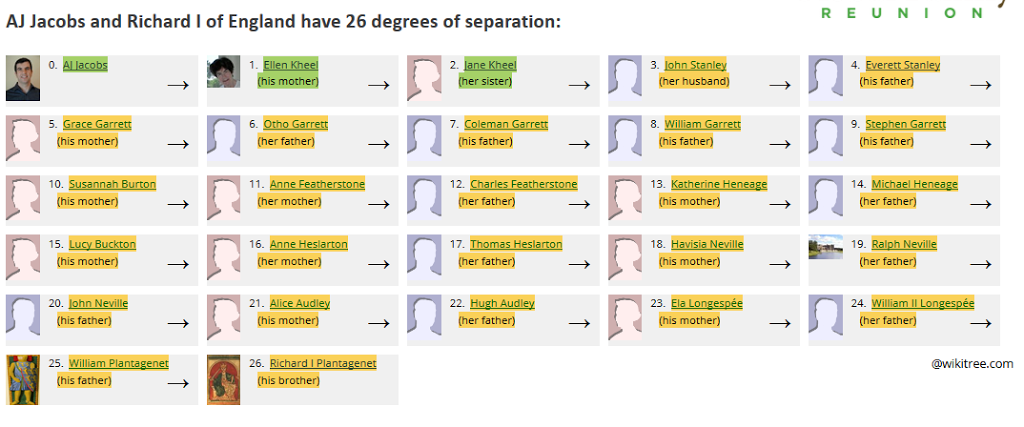 Sources:
1. https://en.wikipedia.org/wiki/Richard_I_of_England
---