Meet Cousin Angel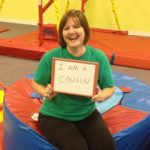 Angel is our GFR Branch Party Liaison and we are thrilled to have her as part of our Team.  She is helping people coordinate their own local Branch Parties (satellite events) in conjunction with the Global Family Reunion that will take place in New York City! Stay tuned for more details on those soon.
1. Tell us a little about yourself. Where are you from? What do you do for work? Fun? Married? Kids? You get the idea.
I live in Huntsville, Alabama with my husband and our two incredible, creative daughters. My husband and I own two small businesses: A children's franchise-The Little Gym of Huntsville and a small engineering firm-Zero Point Frontiers. Full disclosure, I mostly stick to leading the Serious Fun at our gym and let him worry about the rocket science. Divide and conquer you know…
2. What are your thoughts on the Global Family Reunion? Will you be attending?
My thoughts are that it is going to be the most awesome, epic party ever and that you all need to attend. If you can't make the main party, look for a Branch Party near you. Or host a Branch Party near you. I can even help you with that…
And yes, I will be attending the main Reunion with my 15-year-old niece Allison. We might let some of our other family come too.
3. Favorite color? Favorite food? Left-handed or right-handed? Do you like to have breakfast for dinner? Favorite book? Movie? TV show? Song/band? Quote?
Green. Asian. Right-handed. No, I like to have dinner for breakfast. The Year of Living Biblically. LA Story. Doctor Who. U2. "Let's face it, a frog without a sense of humor is a green lump." -Kermit
4. If you could get AJ to invite one person to the Global Family Reunion, who would it be and why?
Joss Whedon. Definitely Joss Whedon. The Cabin in the Woods- best. movie. ending. ever. Deserves an invitation to our party for that effort alone.
Wait, no- Dolly Parton. I would LOVE to hang out with Dolly at a family reunion. Because she is Dolly Parton. No other explanation needed really.
So Dolly Parton or Joss Whedon. Or maybe I could impose on AJ to invite two people for me. I have been putting in a lot of volunteer hours on this project…
5. AJ's idea is that if the people of the world could see how interconnected we all are maybe we would be a little nicer to one another. What do you think about that?
I'm not sure if it will make everyone nicer, but I hope it makes everyone feel a little more obligated to one another. For me, that's what family is about ultimately. You help and support your family. Even when you don't feel like being nice to them. Because they are your family. So I hope when people widen their circles of kinship, they will realize that we are all in this together. I'd like to see our global family have meaningful discussions about what responsibilities we have for one another. What does kinship really require? Since we are all connected, at what point do we need to act for/on others behalf? Even the others who might live on the opposite side of the world. If we don't take care of our family, who will?
6. If you could share one message with your 7 billion cousins what would it be?
I would share these words by Wayne B. Arnason:
Take courage friends.
The way is often hard, the path is never clear,
and the stakes are very high.
Take courage.
For deep down, there is another truth:
you are not alone.
---