Would you like to attend the upcoming RootsTech 2015 conference, February 11-14, in Salt Lake City for free? Enter our RootsTech 2015 Giveaway and you could win a FREE 3-day pass ($239 value) for the Conference!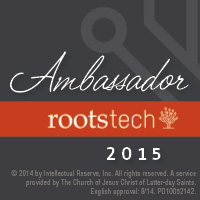 RootsTech is an inspiring family history and technology conference has something for everyone. Hosted by FamilySearch, this annual event has become the largest of its kind and every attracts thousands of participants from around the world!  It's an event where people of all ages learn to discover, share and celebrate their family connections across generations through technology. At RootsTech, there is something for everyone, no matter your experience in family history or your skill level in technology.
Entering our contest is simple:
Just answer this question:  "What does family mean to you?"  Send your response to globalfamily2015@gmail.com.
Responses must be received by November 30th, 2014.  A winner will be randomly selected for the submissions and announced on December 3rd, 2014.  We'll share some of our favorite responses on our blog and social media!
---