For Immediate Release: Thursday, November 13, 2014
Contact: Eowyn Langholf, gfrcousincoordinator@gmail.com
DR. MEHMET OZ TO SPEAK AT THE GLOBAL FAMILY REUNION
The Global Family Reunion is thrilled to announce that Dr. Mehmet Oz will be a key speaker at our event in New York City in June 2015.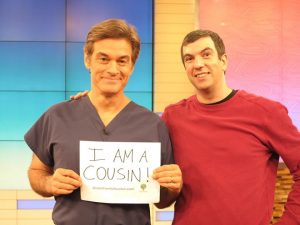 Dr. Oz is a renowned heart surgeon and host of The Dr. Oz Show, which debuted in 2009 and went on to win three consecutive Emmy Awards. In addition to hosting the TV show, Oz continues to serve as vice-chairman and professor of surgery at the Columbia University College of Physicians & Surgeons. He also branched out into a new form of media in 2014 with the launch his own lifestyle magazine.
AJ will appear on Dr. Oz's show tomorrow, Friday, November 14th, to talk about the Global Family Reunion and the importance of family history to your health.
Dr. Mehmet Oz is A.J.'s' aunt's ex-husband's fourth great aunt's husband's aunt's husband's fifth great nephew's wife's first cousin's husband's second cousin's husband.
About Global Family Reunion
The Global Family Reunion will take place June 6, 2015, and aims to be the biggest, most inclusive and most entertaining family reunion in history. Everyone is invited. It will include presentations by celebrities, genealogists, and famous scientists, music, comedy, games, interactive exhibits and food. The main event will be held on the grounds of the world's fair in New York, but there will be simultaneous parties around the world. The Global Family Reunion was founded by author A.J. Jacobs, who became fascinated with the idea that every person on Earth is related to every other after entering his name in several genealogy websites and finding he was connected to people all over the globe. "Once we realize we're all related," he says, "we can solve the big problems, like Alzheimer's".
He is using the event to collect donations, which will be distributed to Cure Alzheimer's Fund and the Alzheimer's Association NYC Chapter. The Global Family Reunion will be the topic of Jacobs' next book and the subject of a documentary by Morgan Spurlock (Supersize Me). Among those participating are actor Daniel Radcliffe, President George H.W. Bush and comedian Nick Kroll. The event has already been featured in the New York Times, People Magazine, NPR and Good Morning America. If you are interested in attending, please see our event website for more information. Plus, take a few minutes and watch Jacobs'TED talk The world's largest family reunion…we're all invited!
---