For Immediate Release: Thursday, January 8, 2015
Contact: Eowyn Langholf, gfrcousincoordinator@gmail.com or aj@ajjacobs.com
BENNETT GREENSPAN TO SPEAK AT THE GLOBAL FAMILY REUNION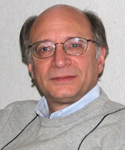 The Global Family Reunion is thrilled to announce that Bennett Greenspan will be a speaker at the main event in New York City on June 6, 2015.
Mr. Greenspan is a remarkable entrepreneur, best known for his pioneering work in genetic genealogy, and as the founder of Family Tree DNA, the first American company to offer genealogical DNA testing directly to the general public.
Currently the president, CEO and managing partner of Family Tree DNA's parent company Gene by Gene, Mr. Greenspan is also the project administrator of several surname DNA projects,  and regularly lectures on the use of genetics in genealogy.
Mr. Greenspan is (distantly) related to Global Family Reunion founder A.J. Jacobs. (To be specific, he is AJ's second great aunt's great uncle's wife's brother's wife's sister's husband's brother's wife's niece's husband's brother's wife's second cousin once removed.).
About the Global Family Reunion
The Global Family Reunion will take place June 6, 2015, and aims to be the biggest, most inclusive and most entertaining family reunion in history. Everyone is invited. It will include presentations by celebrities, genealogists, and famous scientists, music, comedy, games, interactive exhibits and food. The main event will be held on the grounds of the world's fair in New York, but there will be simultaneous parties around the world. All proceeds from the New York event will go toward Alzheimer's Disease research and care.
The Global Family Reunion was founded by author A.J. Jacobs, who became fascinated with the idea that every person on Earth is related to every other after entering his name in several genealogy websites and finding he was connected to people all over the globe. "My hope — and I know it's a bit idealistic — is that once we see how closely we're all related, we'll be able to work together better and solve the world's really big problems, including Alzheimer's," he says.
The Global Family Reunion will be the topic of Jacobs's next book and the subject of a documentary by Morgan Spurlock (Supersize Me). Among those participating are actor Daniel Radcliffe, President George H.W. Bush and comedian Nick Kroll. The event has already been featured in the New York Times, People Magazine, NPR and Good Morning America. If you are interested in attending, please see the event website at globalfamilyreunion.com for more information. Plus, take a few minutes and watch Jacobs' TED talk The world's largest family reunion…we're all invited .
*Image courtesy of Wikipedia
---