For Immediate Release: April 9, 2015
Contact: Eowyn Langholf, gfrcousincoordinator@gmail.com or A.J. Jacobs, aj@ajjacobs.com
Brady Rymer and the Little Band That Could To Perform at the Global Family Reunion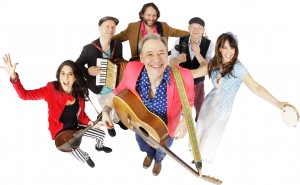 The Global Family Reunion is delighted to announce that Brady Rymer and the Little Band That Could will be performing at the main event in New York City on June 6th.
Two-time GRAMMY nominee Brady Rymer and his band make joyful rock 'n' roll for kids and families.
Enjoyed by youngsters, oldsters and everyone in the middle, his trademark smile lights up the band's live performances, and it shines just as brightly in his recordings, expressing the warmth, fun and positive spirit he finds in the family experience.  That infectious, happy grin gets top billing in his latest CD, "Just Say Hi!"
After a decade recording and touring with childhood buddies in RCA jam band From Good Homes, Brady's career in children's music grew along with his family.  Over time, he assembled a kickin' band of friends, outstanding players all, with backgrounds from Americana to Zydeco. Two kids, seven CD's and two GRAMMY nominations later, his music has been called a "joyous, genius, melodic gift for anyone with a rock and roll soul," and his band "might just be the best-sounding band in children's music," according to NPR's All Things Considered.
About the Global Family Reunion
The Global Family Reunion will take place June 6, 2015, and aims to be the biggest, most inclusive and most entertaining family reunion in history. Everyone is invited. It will include presentations by celebrities, genealogists, and famous scientists, music, comedy, games, interactive exhibits and food. The main event will be held on the grounds of the world's fair in New York, but there will be simultaneous parties around the world. All proceeds from the New York event will go toward Alzheimer's Disease research and care. Tickets are available now.
The Global Family Reunion was founded by author A.J. Jacobs, who became fascinated with the idea that every person on Earth is related to every other after entering his name in several genealogy websites and finding he was connected to people all over the globe. "My hope — and I know it's a bit idealistic — is that once we see how closely we're all related, we'll be able to work together better and solve the world's really big problems, including Alzheimer's," he says.
The Global Family Reunion will be the topic of Jacobs's next book and the subject of a documentary by Morgan Spurlock (Supersize Me). Among those participating are actor Daniel Radcliffe, President George H.W. Bush and comedian Nick Kroll. The event has already been featured in the New York Times, People Magazine, NPR and Good Morning America. If you are interested in attending, please see the event website at globalfamilyreunion.com for more information. Plus, take a few minutes and watch Jacobs' TED talk The world's largest family reunion…we're all invited .
---