by Eowyn Langholf
Hi Cousins! I'd love to introduce you to cousin Matt. He was nice enough to be my first victim volunteer to answer some questions so the world could get to know him a little better. Without further ado, meet Matt:
Me: You're 15. When did you first get into researching your family history and what sparked your interest?
Matt: As far as I can remember, I've always been into family history. My earliest memory of it though is talking to my paternal grandfather about his maternal grandfather, Lee Ward Lindow. I wouldn't ask him questions, I would overhear things and write them down on random sheets of paper I had and I put them all in a black binder. Even now I refer to that black binder and every time I look in there I see something I wrote down as a five year old which puts my puzzle pieces together even today!!!
Me: You have some big goals for your future! Tell us about some of them.
Matt: Well, after high school, I'd like to go Liberty University in Lynchburg, Virginia, majoring in Law and Theology, and minoring in Political Science. I'd love to move to Kitty Hawk, NC and start my own law firm and my own church, and a genealogy firm on the side. I'd love to coordinate a family reunion from the descendants of my maternal great-grandfather one day!
Me: Share with us an interesting story you've discovered about one of your ancestors.
Matt: My paternal great-great grandfather who I mentioned before was Lee W. Lindow. His grandfather was a veteran of the United States Civil War named Frederick J. Lindow. Frederick settled in North Collins, New York and built a lumber mill industry that was worth millions of dollars – in the 1930s, 40s, 50s, and 60s. Later after Fred's death, Lee's uncle Raymond inherited the lumber mill but sold it before his death in 1969. When he passed away, he must have given Lee's sister Florence some of the money because when she died, also in the 1960s, she left a huge donation worth millions to a local church.
Me: Do you have a favorite ancestor? Who? Why?
Matt: My absolute favorite ancestor would have to be Charles W. Goodier, Sr., my maternal great grandfather. He passed away in November of 2013 after a battle of Alzheimer's, so I never really got a chance to talk with him. But after his death I learned about what an amazing life he had. He served our country in the Air Force and in the process met the Queen Mother and married a model from Ohio, my great grandma Rita, who passed in 1976. After his service, he became Mayor of Blasdell, New York, a small 1,000 person village outside of Buffalo and served one term, but he stayed very active in Village politics. He has currently as of August 2014 157 descendants.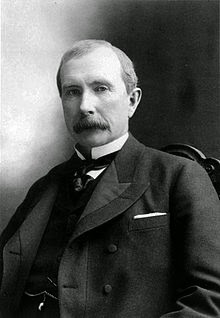 John D. Rockefeller, Sr. (Image Credit: Wikipedia)
Me: If you could be related to anyone in history, who would you want it to be and why?
Matt: If I could be related to anyone in history, I would want to be related to John D. Rockefeller, Sr. My reasoning for this is because he was a self made man who founded a dynasty of brilliant minded men who went on to become elected Government officials all over the country. John Sr. lived my dream life!!!
Me: What are your thoughts about the Global Family Reunion? Will you be attending?
Matt: I think AJ Jacobs is brilliant by coming up with this idea for a Global Family Reunion. I think everyone is related, and if I had my way, the entire population of Earth would there!!! I will not be able to attend, BUT I plan on watching it live on your "Live Stream" option.
Me: Do you come from a big family? Small family? Do you guys have family reunions and do you have any good family reunion stories?
Matt: My paternal family is very small, and it's like a reunion every holiday!!! There's usually 7 of us. My paternal grandpa has many first cousins but he never really got the chance to actually meet them. I have contacted one of them and according to her information, there are a lot more of my paternal family out there than I thought there was!!! On the other hand, my maternal family is gigantic. My grandma has 47 first cousins, my mom has 39, and I have 25. The numbers of first cousins are high like that all the way back until the 1600's!!! Most of those cousins had 1-10 kids. That means there's a lot of relatives out there!!! Now, the descendants of my maternal great-great grandparents had one family reunion in Cincinnati but I did not go. Even if I did, I would have been too young to remember.
Me: Where have you found your ancestors come from? Would you want to visit the lands they hail from?
Matt:On both sides of my family, my great grandpas' families come from England and my great grandmas' families come from Germany. On my maternal side, in Sale, England, there is a road called Goodier Street after my great-great grandfather, Joseph Goodier, and I'd love to go there and see it!!!
Me: What sort of activities do you participate in at your school?
Matt: In school I stick to more academic extra curricular activities. I'm the Vice President of the Class of 2017 and I am involved in numerous history related activities. I'm looking I join the golf team this year…
Me: Favorite color? Favorite food? Left-handed or right-handed? Do you like to have breakfast for dinner? Favorite book? Movie? TV show? Song/band?
Matt: I've always liked the color blue, it's like the only color I ever wear!!! I'm right handed and I never really got into TV. I'm one of those kids that read an encyclopedia and if I do watch TV I watch the History Channel or C-SPAN. I really like classical orchestra / piano music. I'm a pianist myself!
Me: Do you have any funny quirks that you've inherited from your family?
Matt: Everyone in my family has a certain laugh. It's really hard to explain but it's on my dad's side. It follows us everywhere!!!
Me: If you could share one message with your 7 billion cousins what would it be?
Matt: My message to my 7 billion cousins would be that Adam and Eve started us out and that we should take time to get to know people better starting with the family that we know, such as first cousins or your siblings. Treat everyone with severe kindness, because you don't want your family to have a bad opinion of you! Always stay happy.
AJ and Matt connect through Henry Cook, Matt's 12 great grandfather and one of the first settlers of Connecticut.
(If you would like to be featured in an "I Am A Cousin" post please contact me at gfrcousincoordinator@gmail.com!)
---