Meet Cousin Ron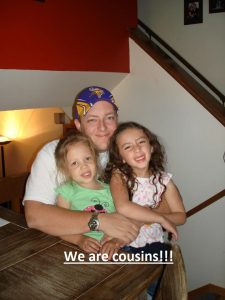 1.    Tell us a little about yourself.  Where are you from? What do you do for work? Fun? Married? Kids? You get that idea.
I am a native Coloradan and would be lost without the Rocky Mountains (they are always in the West and act as my compass). I have been married to my wife, Christi (my high school sweetheart) for nine years and we have two daughters that are both in elementary school. I have been a nurse for ten years and have worked in the Intensive Care Unit, Emergency Department, Hospital Quality/Patient Safety and now work in an outpatient Dialysis Clinic.
 2.    Do you have a favorite ancestor? Who? Why?
I find all of my ancestors interesting, but I am partial to my great great grandfather, Erick Elliason/Norman (Norman-1078). Erick emigrated to Minnesota from Vilhelmina, Sweden in 1907 with his brother Isak to find a better life for their families. Both Isak and Erick ended up with the last name of Norman since they didn't have a non-patronymic surname. Erick's wife, Emerentia joined him the next year with their 4 children including my great-grandfather, Ernest Erick Norman. The middle name Erick has been passed down each generation to include me. We gave my youngest daughter the middle name Ericka to continue this tradition. If it wasn't for Erick's courage to make the move to America and his strong work ethic that he passed down, I doubt that my family and I would be here today.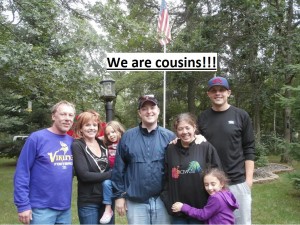 3.    If you could be related to anyone in history, who would you want it to be and why?
My wife and I think it would be interesting to be related to Gandhi as we both find his life inspiring.
 4.    What are your thoughts on the Global Family Reunion? Will you be attending?
I was excited to hear about AJ's plan to hold the Global Family Reunion. I joined the project almost immediately and have enjoyed finding as many connections as possible. I would love to attend, but may have to check out one of the satellite locations as New York is a little far from here.
5.    Do you come from a big family? Small family? Do you guys have family reunions and do you have any good family reunion stories?
My parents had just me and my brother. My mother came from a family of three (she is a twin) and my father came from a family of 9 children (1 girl and 8 boys!). Holidays are always quite the gathering as many of my father's siblings remain in Colorado. Also each year the Norman's have a reunion in Minnesota which can gather quite the crowd. Last summer I took my wife and girls to Minnesota for the first time where we were able to visit some of my ancestors and I was able to discuss my grandmother's family with her sister who has been involved in genealogy for some time.
 6.    Favorite color? Favorite food? Left-handed or right-handed? Do you like to have breakfast for dinner? Favorite book? Movie? TV show? Song/band? Quote?
Blue. Manicotti. I am a southpaw. Who doesn't like brinner? As far as books, there are too many to pick one. The Princess Bride or Monty Python and the Holy Grail. Game of Thrones. Weird Al Yankovic. "I think one's feelings waste themselves in words; they ought all to be distilled into actions which bring results." Florence Nightingale
 7.    Do you have any funny quirks that you've inherited from your family?
I attribute my sense of humor to my family.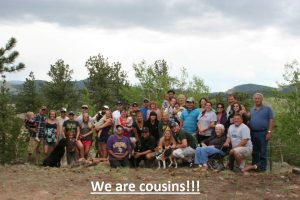 8.    Do you know much about your family history? Where do your ancestors come from? Would you want to visit the lands they hail from?
When I started my journey in genealogy, I only knew of my Swedish roots and that our last name was not Norman when my family was in Sweden. Past that, I had very little knowledge of where my family came from. Nearly two years later, I have connected myself to the Global Family Reunion and the worldwide tree.
My paternal grandfather's line I have traced back to before 1800 and including my 8x great grandfather Johan Månsson (1661-1728) in Sweden. My paternal grandfather also has Dutch roots with the Doty's.
My paternal grandmother's family is also well researched and includes the Schamp's and Vigne's who were New Netherlands settlers (also the source of my connection to my cousin Teddy Roosevelt), the Reichert's German immigrants in the 1800's, The Rose's who were Scottish settlers in New York in the 1600's, the Handy's/Handee's/Hendee's who were early residents of Connecticut in the 1600's, the Jack's who were also Scottish immigrants in the 1800's in Wisconsin, the Kerr's who were immigrants from Denmark in the 1800's, and the Odell's who were settlers of New York in the 1600's from England.
My maternal grandfather's family includes the Foiles' who were in Virginia in the 1700s, the Cloninger's who were in Maryland in the 1700s, the Wineland's who settled in Pennsylvania from the Netherlands and Germany in the 1700s, the Strickland's who were in Connecticut in the early 1700s. His mother's family has been a bit more mysterious. Her father (my great great grandfather) Roy Johnson (Johnson-17066) was part Cherokee and was adopted by an outlaw named Emmett Dalton (Dalton-1719), otherwise his ancestry is a mystery.
I would love to travel outside of the US to visit many of the countries that my family hails from, especially Sweden as I feel the greatest connection there.
 9.    If you could get AJ to invite one person to the Global Family Reunion, who would it be and why?
I would love to see Sir Patrick Stewart there, I am a fan of his work and he seems like a fun guy. Also he could bring along his pal Sir Ian McKellen. This also would be fitting since I had uncovered AJ's connection to the current British royal family.
 10.    AJ's idea is that if the people of the world could see how interconnected we all are maybe we would be a little nicer to one another.  What do you think about that?
I absolutely agree with AJ's thoughts on this. I know the more I look into the lives of my family and others, I find a deeper appreciation for their struggles and triumphs.
 11.    If you could share one message with your 7 billion cousins what would it be?
I suppose it would be to write on the back of your photos to save the future generations a great deal of headaches. I was reconnected with a photo of my 4x great grandparents because someone wrote on the back of the photo. I know of many "orphaned" photos out there that do not have the same happy ending.
---