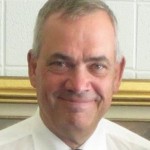 [Editor's Note: Niels Hansen has worked in the wind turbine industry as a development manager in the electronics department. Today he works at a small electronics company making high-end audio equipment. Niels has more than 40,000 people on his tree and about 70% of them live in Denmark. The rest are distant relatives, and some 15,000 individuals are in Utah or other places in the United States. He is our Global Family Reunion Chart Maker. 
A personalized chart by Niels is available, in limited supply, as part of the $200 perk in our IndieGogo Campaign.  See below to view a section of the massive 100 person chart he is developing for the main event!]
What first drew you to the Global Family Reunion?
I think I got a Google hit somehow and read about AJ's project. I think it was first in April 2014.
Who is your favorite person in your connection to AJ?
It's definitely the Bush family as it was the first real connection to AJ.
Has your connection changed much as new research has been added?
When I read about AJ's project I immediately tried to connect to him. I saw he was related to Quincy Adams. I had some Adams in my tree so I saw a possibility. I found the connection 80 steps away and made my way in Wikitree. But I had some troubles when I connected my line to Quincy Adams. The profile owner disagreed in my connection so I had to find another way. I then found it through the Bush family. Later I read that AJ was related to the Russian Tsar family. Then I knew that I could cut a lot of steps off, as I am distant related to the Danish royal family and they are in close relationship to the Russian Tsar family. The distance to AJ was then cut down to 32 steps.
Can you explain a little how you create your connection diagrams?
The connection diagrams are drawn manually in Microsoft Publisher. So it takes quite a time to make a large diagram. But I have standardized the diagram with help lines to align all the boxes.
What inspired you to start making them?
I have some friends in Utah. In spring 2013 I found a family connection to them 50 steps away. When my wife and I visited them in June 2013 I brought a photo book with me I had made as a gift. I wanted to show our relationship on the cover on the book and got the idea to the connection diagram for a good overview of a very distant relationship.
Do you plan on going to the Reunion in June?
The same day as I first read about AJ's project I said to my wife: "If I find a connection to AJ we will go to the event in New York". It took three evenings to find the first connection. In August I booked flight tickets and at that early time I got them to a very good price. My wife and I make a vacation out of it and take a 3 week roundtrip in north-eastern USA.
What are you most looking forward to?
I think it will be an amazing event on June 6 and look forward to see how big a crowd there will show up and also look forward to see all the famous invited people.
Who is one person we haven't connected yet you are hoping to see done?
I really find it interesting to see bad guys connected. So I were happy when I saw Josef Stalin was connected to AJ. It would be fun to see others connected but it might be too much to ask for Adolf Hitler?
Has finding how you're connected to so many different people changed how you look at those around you?
Yes I agree with AJ that I feel a friendly relationship to people I know I am connected to. I have a lot of Utahan people in my tree. So many that when I attended RootsTech this year many of the people I talked with showed up to be my distant relatives. In Salt Lake City I visited the Family History Library. When I were almost finished I recognized the surname on my assigned helpers name tag and I did know we were related. I looked up in my family tree and she looked up in her's. And it showed up that I had her parents in law in my tree. We exchanged email addresses and later we have emailed with further information about our common family.