by Eowyn Langholf
Today's AJ Cousin Connection is actor Patrick Swayze, who was born on this day, August 18, in 1952, and is perhaps best known for his roles in Dirty Dancing and Ghost.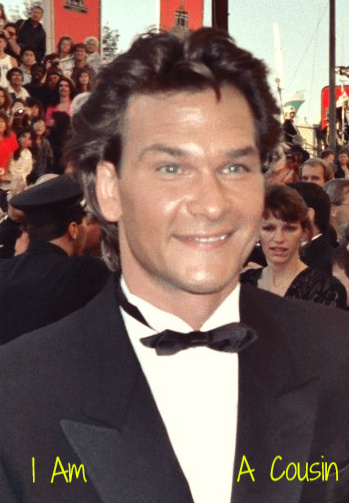 Fun Facts About Patrick:
1. His first professional appearance was as a dancer. He played "Prince Charming" in "Disney on Parade".
2. He received a Razzie Award for the Worst Actor for two movies: Road House and Next of Kin.
3. Patrick was known for saying "Good-looking people turn me off. Myself included."
4. Ghost inserted him into modern hip-hop lyrics where the phrase "I'm Swayze" (means "I'm ghost," which is in turn slang for "I'm leaving").
5. Patrick became known in Hollywood as the King of Sleepers because two of his most successful movies – Dirty Dancing and Ghost – were both initially not expected to be big movies but eventually went on to become classics.
6. While still in grade school, Swayze developed a love for ballet and was often teased by fellow classmates. Throughout high school, he set aside his dance career to concentrate on athletics — juggling gymnastics, swimming, and football.
Patrick Swayze is A.J. Jacobs' aunt's 6th great aunt's husband's aunt's husband's niece's husband's 6th great nephew.
Here's what that looks like:



Sources:
1. https://www.channel24.co.za/Movies/Features/Patrick-Swayze-24-Facts-20090915
2. https://www.biography.com/people/patrick-swayze-9542318#aspiring-dancer